Decades of Experience
Robert E. Lee & Associates, Inc. is a full-service engineering firm founded in 1956 by the late Robert E. Lee.  Bob Lee, as he was known, was born in De Pere, Wisconsin in 1924. He graduated from the University of Wisconsin-Madison, where he earned a Bachelor of Science degree in Civil Engineering. In 1959, Bob surveyed the layout for Lambeau Field. He served as president of the firm until 1986.
In 1986, Richard Swiontek was elected president of Robert E. Lee & Associates. Rich served in this position until 2003. At that time, the Company's Board of Directors elected Lee Novak to replace him as president. Lee served until 2012, when Mark Larson was elected to the position of president.
Locations
In its early years, Robert E. Lee & Associates provided civil engineering and surveying services in an office facility located on the northwest corner of Broadway and Dousman Streets in Green Bay. The firm outgrew its first site by the mid-1980s, and in 1986, 26 employees made the move to the southeast corner of Highway 172 and Webster Avenue. REL remained at 2825 S. Webster Avenue until 2002. In November 2002, Robert E. Lee & Associates and its 50 employees relocated to a newly constructed office at 1250 Centennial Centre Boulevard in the Village of Hobart, where we remain today.
Growth
Robert E. Lee & Associates acquired Northern Environmental Services (NES) in 1999. This association offers clients a comprehensive resource management approach to natural resource planning and management projects, that integrates land use planning, engineering, surveying and ecological services offered by our firm.
Robert E. Lee & Associates has grown and has established itself as a leader in providing engineering, environmental, and ecological services. The firm has an outstanding record of providing superior quality services to its clients. The growth and reputation of the firm are the direct outcome of individual efforts and close cooperation by all of the employees. The future success of the firm depends upon the continuation of these efforts and adherence to the highest professional standards and ideals.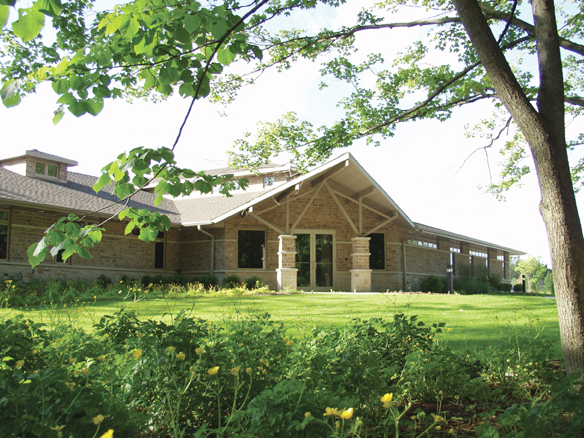 Professional Engineers
Underground Storage Tank Site Assessors
Tank System Site Assessor
Grade III and IV Wastewater Treatment Plant Operator
Licensed and Registered Land Surveyors
Professional Geologist
Certified Hydrogeologist
Certified Hazardous Materials Manager
Petroleum Environmental Cleanup Fund Act (PECFA) Consultants
Asbestos Inspectors
Storm Water Pollution Prevention Manager
OSHA Hazardous Waste Site Workers
Lead Supervisor
Environmental Specialist
Environmental Scientist
Ecologists
Geologist
Assured Wetland Delineators
GIS Specialist
Aggtec/I/P/IPP
PCC Tec-1
Profilograph
Asphtec-I
Asphtec-II
Asphtec-III
Grading
REL believes that a strong relationship and partnership with other professionals and societies helps strengthen the services we are able to provide. We are pleased to affiliate with the following groups:
American Society of Civil Engineers (ASCE)
American Public Works Association (APWA)
Brown County Home Builders Association (BCHBA)
Fox-Wolf Watershed Alliance (FWWA)
National Society of Professional Engineers
Northeast Wisconsin Stormwater Consortium (NEWSC)
National Society of Professional Surveyors
Wisconsin League of Municipalities
Wisconsin Rural Water Association
Wisconsin Towns Association
Wisconsin County Highway Association
Wisconsin Society of Land Surveyors
Wisconsin Department of Transportation
Wisconsin Department of Natural Resources
Wisconsin Municipal Clerks Association
American Water Works Association
National Ground Water Association
American Society for Testing and Materials
Our Mission
Our mission is to be a "QUALITY FIRST" service company dedicated to long-term relationships with our clients. We pride ourselves in having a "can-do" attitude when dealing with our customers' requests. Our goal is to be known as the firm that consistently satisfies our clients by providing a quality and timely product.
We achieve these goals by employing and retaining hard working, dedicated, highly skilled professionals. We are a company that invests in new technology and education to provide our clients with the highest quality product and to continually challenge employees. We view ourselves as a partner with our clients, the community, and the environment. We believe that through this philosophy our company will steadily expand and maintain profitability.
Meet Our Firm Principals
pohlinger
2022-01-04T16:28:22+00:00
Environmental Compliance Manager
pohlinger
2022-01-04T16:28:42+00:00
Civil/Municipal Engineering Manager
Meet Our Staff
Click the tabs below to view the managers of each of our departments.
pohlinger
2022-01-04T16:28:22+00:00
Environmental Compliance Manager
pohlinger
2022-01-04T16:28:42+00:00
Civil/Municipal Engineering Manager
pohlinger
2022-01-04T16:29:11+00:00
Senior Ecologist and Ecological Manager
pohlinger
2022-01-04T16:30:43+00:00
Civil/Municipal Senior Project Manager
pohlinger
2022-01-04T16:30:59+00:00
Project Engineer / Funding
pohlinger
2022-01-04T16:32:03+00:00
Construction Services Manager/Transportation
pohlinger
2022-01-04T16:31:14+00:00
Civil/Municipal Senior Project Manager
Employment
Move Your Career Forward with Robert E. Lee & Associates
Thank you for your interest in working with Robert E. Lee & Associates, Inc. (REL). We're looking forward to getting to know you. If you are interested in an open position with our company, please email us your cover letter, resume, and REL's self-identification form (see link below).
Robert E. Lee & Associates Inc. (REL), being an Equal Employment Opportunity Employer, request the self-identification form be filled out by all applicants. This form is voluntary on your part, but it allows us to meet reporting requirements and evaluate the effectiveness of our recruitment efforts. The information will be kept confidential and when reported, data will not identify any specific individual. Refusal to provide this information will not subject you to any adverse treatment in accordance with REL policies, which forbids discrimination based on this information.